What are Telomeres?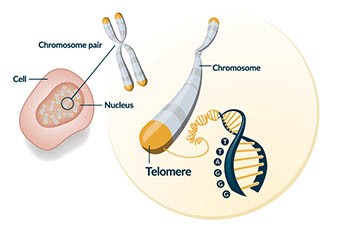 TeloYears lets you learn and track your cellular age based on the length of your telomeres, the protective caps on the ends of your DNA strands that tend to shorten and fray with age. Imagine our DNA as a long spiral ladder with millions of rungs. Our telomeres are the last few thousand rungs on the ends of the ladder that keep it from "unzipping" as cells divide and thus protect our genes, which are made up of long stretches of rungs in the middle. Technically speaking, telomeres are repetitive stretches of the nucleotide base pair sequence TTAGGG at the ends of our chromosomes.
When we are born, our telomeres are typically at their longest. However, throughout our lives the telomeres shorten. At every cell division, telomeres lose a bit of their DNA until, over time, the cell cannot replicate and becomes "senescent," which is the cellular equivalent of aging.
There is a large and growing body of scientific evidence showing that shorter telomeres are associated with a number of age-related diseases, and that lifestyle, genetic, environmental, and other factors can affect your telomere length.